Economical, Versatile Storage for Outside or In-Plant Use
Whether you need outside or in-plant bulk storage, a BROCK® Bulk Storage System offers a versatile line of economical bolted-steel hopper-bottom silos in the capacities and features you need today – in a silo that will allow you to grow into tomorrow.
Storage Capacities
35 to 6,800 cubic feet (1 to 193 cubic meters)
Silo Diameters
6 to 18 feet (1.8 to 5.5 meters)
---
Features
Storage Capacities to Fit the Needs of Many Operations
Capacities range from 35 through 6,800 cubic feet (1 through 193 cubic meters). Silo diameters range from 6 to 18 feet (1.8 to 5.5 meters).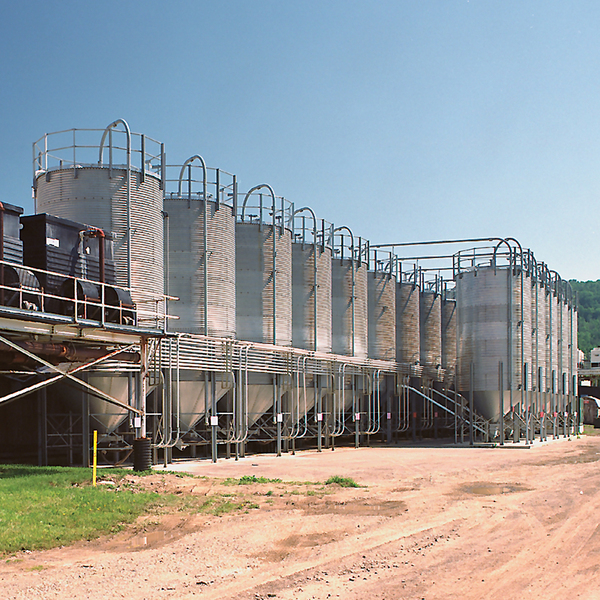 High-Strength Roof
The sturdy, low-profile (10-degree slope) roof has a 22-inch (56 cm) fill opening and 12-inch (305 mm) discharge opening with 16×16-inch (41×41 cm) universal flange.
Your Choice of 45° or 60° Center Draw Unloading Hoppers
Variety of Safety and Access Options
Unskirted silos are available with optional safety cages, lockable doors and crosswalks designed to meet OSHA specifications.
Other options include:
Rooftop perimeter guard and toe board
Manholes
Pressure relief valves
View windows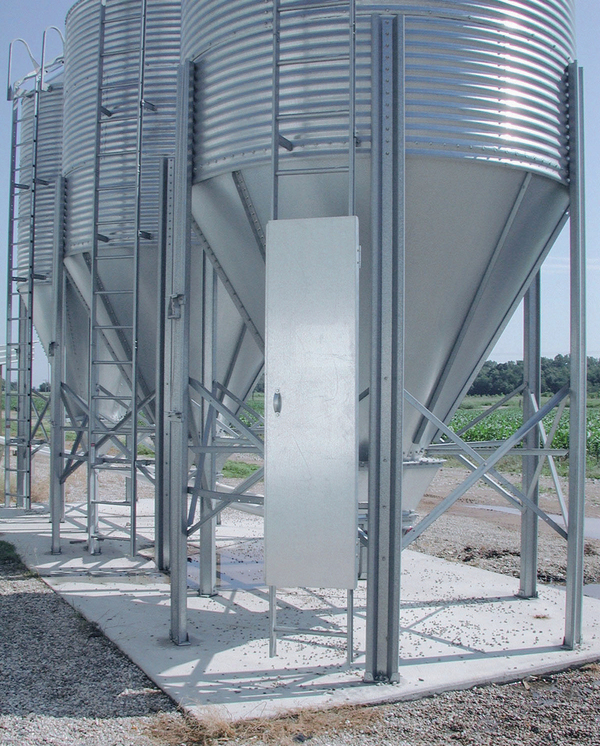 Specifications
Unskirted Storage Silo Capacities:
Unskirted Storage Silos
Diameter
Feet (Meters)
Model
Number
Approx.
Capacity
Maximum
Cu. Ft.
Approx.
Capacity
Maximum
M3
Usable
Capacity
Cu. Ft.*
Usable
Capacity
M3*
Height
To Lid
Feet
Height
To Lid
Meters
60° Hopper Angle
6 ft. (1.8 m)
C45-00601
124
4
113
3
10.2
3.1
6 ft. (1.8 m)
C45-00602
199
6
188
5
12.8
3.9
6 ft. (1.8 m)
C45-00603
273
8
262
7
15.5
4.7
6 ft. (1.8 m)
C45-00604
348
10
337
10
18.2
5.5
6 ft. (1.8 m)
C45-00605
423
12
412
12
20.8
6.3
6 ft. (1.8 m)
C45-00606
497
14
486
14
23.5
7.2
45° Hopper Angle
9 ft. (2.7 m)
C45-00932
439
12
385
11
13.0
4.0
9 ft. (2.7 m)
C45-00933
608
17
554
16
15.8
4.8
9 ft. (2.7 m)
C45-00934
777
22
723
20
18.5
5.6
9 ft. (2.7 m)
C45-00935
946
27
892
25
21.2
6.5
9 ft. (2.7 m)
C45-00936
1,115
32
1,061
30
23.8
7.3
9 ft. (2.7 m)
C45-00937
1,284
36
1,230
35
26.4
8.0
9 ft. (2.7 m)
C45-00938
1,453
41
1,399
40
29.0
8.8
9 ft. (2.7 m)
C45-00939
1,622
46
1,568
44
31.7
9.7
9 ft. (2.7 m)
C45-009310
1,791
51
1,737
49
34.3
10.5
9 ft. (2.7 m)
C45-009311
1,960
56
1,906
54
37.0
11.3
60° Hopper Angle
9 ft. (2.7 m)
C45-00902
514
15
460
13
16.0
4.9
9 ft. (2.7 m)
C45-00903
684
19
630
18
18.6
5.7
9 ft. (2.7 m)
C45-00904
854
24
800
23
21.3
6.5
9 ft. (2.7 m)
C45-00905
1,019
29
965
27
24.0
7.3
9 ft. (2.7 m)
C45-00906
1,189
34
1,135
32
26.6
8.1
9 ft. (2.7 m)
C45-00907
1,359
38
1,305
37
29.3
8.9
9 ft. (2.7 m)
C45-00908
1,529
43
1,475
42
31.9
9.7
9 ft. (2.7 m)
C45-00909
1,699
48
1,645
47
34.6
10.5
9 ft. (2.7 m)
C45-009010
1,869
53
1,815
51
37.3
11.4
45° Hopper Angle
12 ft. (3.7 m)
C45-01232
803
23
662
19
14.9
4.5
12 ft. (3.7 m)
C45-01233
1,102
31
961
27
17.6
5.4
12 ft. (3.7 m)
C45-01234
1,400
40
1,259
36
20.3
6.2
12 ft. (3.7 m)
C45-01235
1,698
48
1,557
44
22.9
7.0
12 ft. (3.7 m)
C45-01236
1,997
57
1,856
53
25.6
7.8
12 ft. (3.7 m)
C45-01237
2,295
65
2,154
61
28.3
8.6
12 ft. (3.7 m)
C45-01238
2,593
73
2,452
69
31.0
9.4
12 ft. (3.7 m)
C45-01239
2,892
82
2,751
78
33.6
10.2
12 ft. (3.7 m)
C45-012310
3,190
90
3,049
86
36.3
11.1
12 ft. (3.7 m)
C45-012311
3,489
99
3,348
95
39.0
11.9
60° Hopper Angle
12 ft. (3.7 m)
C45-01202
966
27
825
23
18.8
5.7
12 ft. (3.7 m)
C45-01203
1,265
36
1,124
32
21.5
6.6
12 ft. (3.7 m)
C45-01204
1,563
44
1,422
40
24.1
7.3
12 ft. (3.7 m)
C45-01205
1,861
53
1,720
49
26.8
8.2
12 ft. (3.7 m)
C45-01206
2,160
61
2,019
57
29.5
9.0
12 ft. (3.7 m)
C45-01202
2,459
70
2,318
66
32.2
9.8
12 ft. (3.7 m)
C45-01208
2,758
78
2,617
74
34.8
10.6
12 ft. (3.7 m)
C45-01209
3,057
87
2,916
83
37.5
11.4
12 ft. (3.7 m)
C45-012010
3,356
95
3,215
91
40.2
12.3
12 ft. (3.7 m)
C45-012011
3,655
103
3,514
100
42.9
13.1
45° Hopper Angle
15 ft. (4.6 m)
C45-01532
1,386
39
1,096
31
16.7
5.1
15 ft. (4.6 m)
C45-01533
1,854
52
1,564
44
19.3
5.9
15 ft. (4.6 m)
C45-01534
2,323
66
2,033
58
22.0
6.7
15 ft. (4.6 m)
C45-01535
2,792
79
2,502
71
24.7
7.5
15 ft. (4.6 m)
C45-01536
3,261
92
2,971
84
27.3
8.3
15 ft. (4.6 m)
C45-01537
3,730
106
3,440
97
30.0
9.1
15 ft. (4.6 m)
C45-01538
4,199
119
3,909
111
32.7
10.0
15 ft. (4.6 m)
C45-01539
4,668
132
4,378
124
35.4
10.8
60° Hopper Angle
15 ft. (4.6 m)
C45-01502
1,734
49
1,444
41
21.6
6.6
15 ft. (4.6 m)
C45-01503
2,200
62
1,910
54
24.3
7.4
15 ft. (4.6 m)
C45-01504
2,666
75
2,376
67
26.9
8.2
15 ft. (4.6 m)
C45-01505
3,132
89
2,842
80
29.6
9.0
15 ft. (4.6 m)
C45-01506
3,599
102
3,309
94
32.3
9.8
15 ft. (4.6 m)
C45-01507
4,065
115
3,775
107
34.9
10.6
15 ft. (4.6 m)
C45-01508
4,531
128
4,241
120
37.6
11.5
45° Hopper Angle
18 ft. (5.5 m)
C45-01832
2,120
60
1,600
45
19.0
5.8
18 ft. (5.5 m)
C45-01833
2,791
79
2,271
64
21.7
6.6
18 ft. (5.5 m)
C45-01834
3,463
98
2,943
83
24.3
7.4
18 ft. (5.5 m)
C45-01835
4,134
117
3,614
102
27.0
8.2
18 ft. (5.5 m)
C45-01836
4,805
136
4,285
121
29.7
9.1
18 ft. (5.5 m)
C45-01837
5,476
155
4,956
140
32.4
9.9
18 ft. (5.5 m)
C45-01838
6,148
174
5,628
159
35.0
10.7
18 ft. (5.5 m)
C45-01839
6,820
193
6,300
178
37.3
11.4
Notes
*Approximate Usable Storage Capacity with 30° Angle of Repose
Literature